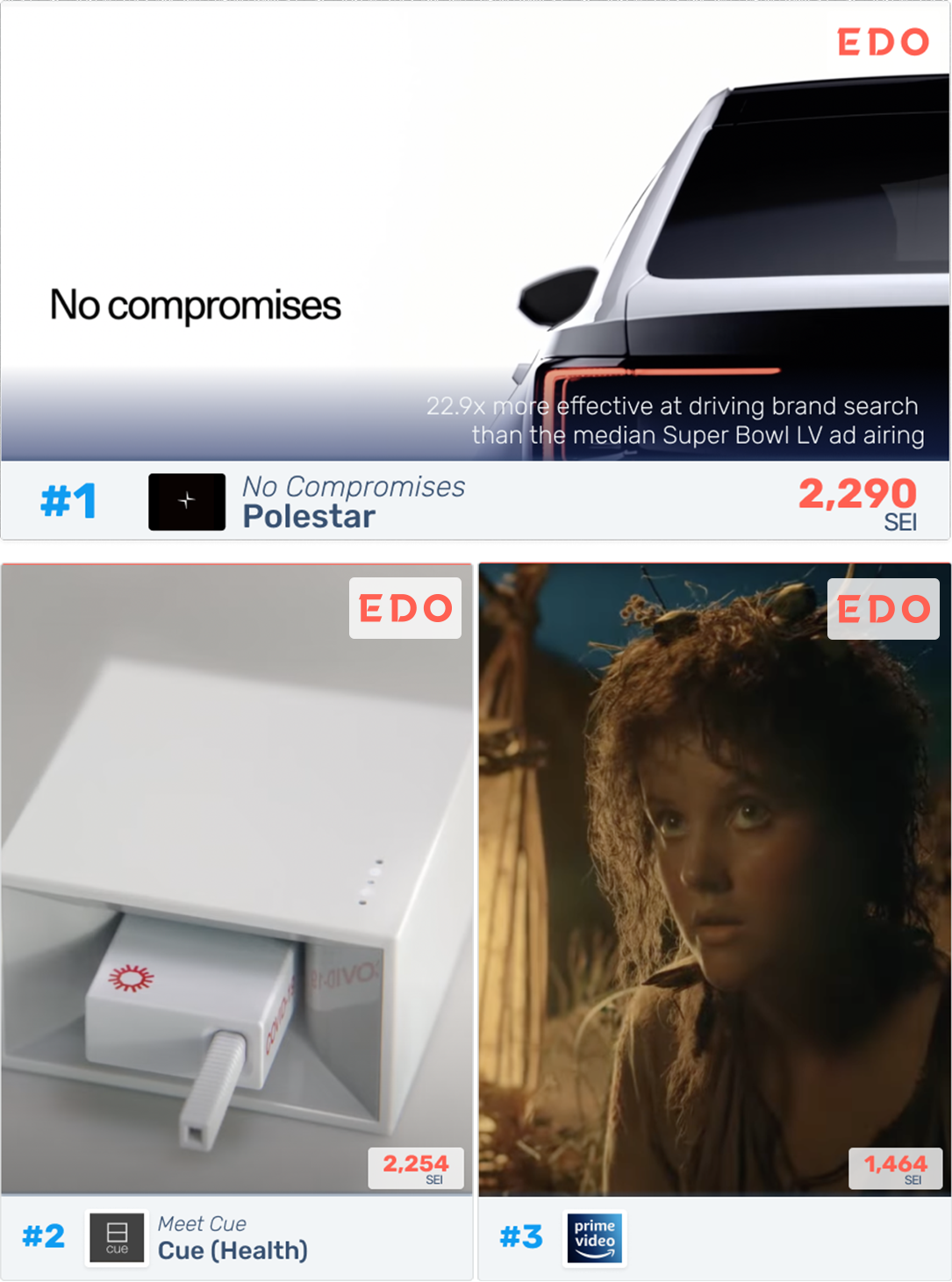 Ad Rankings
EDO has scored and ranked every ad airing within Super Bowl LVI based on the Search Engagement each spot generated. Search Engagement is EDO's proprietary measure of the increase in online search activity for a brand or product in the minutes immediately following a TV ad airing. The rankings compare how effectively each spot drove viewers to search online for the advertised brand or product. EDO also measured the Search Engagement for every celebrity who appeared in a non-entertainment Super Bowl LVI ad.
At A Glance
A Rookie Dynasty
Super Bowl LVI saw 30 new advertisers, representing about 40% of the total advertisers in the game, per NBC.
Polestar, the Swedish automotive brand, is among the Super Bowl newcomers. Calling out its electric vehicle (EV) competitors, Polestar earned the top-performing ad, per EDO data. The black-and-white spot performed 23x better than the median Super Bowl LVI spot.
Coming in a close second in EDO rankings this year is Cue Health. Cue had the only Covid-19 related spot of the game, and was also the only pharma company to air a Super Bowl ad in 2022. The company's airing features Gal Gadot lending her voice to the at-home digital diagnostic test, and performed 22.5x better than the median Super Bowl ad this year.
Other rookie advertisers that had strong Super Bowl ad debuts were Meta (4x better than the median Super Bowl ad), Wallbox (3x), and Rakuten (1.4x).
Auto Accelerates Electric Vehicle Advertising
The number of electric vehicle TV ads have quadrupled in recent years, from 8,100 ad airings in 2019 to 33,000 in 2021. Now, the EV ad trend has penetrated the Super Bowl.
Nearly every single luxury and non-luxury automaker that aired a Big Game spot featured an electric vehicle, and for the first time ever, viewers also saw an ad for an EV accessory. While Wallbox focused on the true story of #SuperchargedSeth and his bout with lightning, Kia focused on an adorable Robo Dog, BMW leaned on Greek Gods Zeus (Arnold Schwarzenegger) and Hera (Salma Hayek Pinault), and Nissan produced a 60-second action adventure.
Kia had the second most successful EV ad, with 10.7x better performance than the median performing Super Bowl LVI ad.
Who won the Crypto-bowl?
Crypto companies continue to generate brand awareness in live sports settings, and the Super Bowl is the latest platform they've found success on. Crypto companies FTX, Crypto.com, eToro, and Coinbase all aired their first-ever Big Game spots this year — with wildly differing strategies.
Coinbase took the simplest approach out of the four crypto brands, with a multicolored QR code bouncing from corner to corner (which may have some viewers flashing back to that one episode of The Office). The approach worked: Coinbase had the most engaging crypto ad in this year's game, earning 8x more engagement than the median Super Bowl LVI ad.
Coming in second is FTX (6.5x better performance than the median ad) with a spot that takes viewers on a trip through time with the confident, but always-wrong Larry David. Crypto.com aired a conversation between LeBron James and his younger self, while eToro premiered a dynamic ad with a focus on the power of social investing in a community of millions.
Feeling Nostalgic
Movie and TV characters of the 90s and early naughts came out of retirement for Super Bowl LVI, among them Dr. Evil (Mike Meyers) and his infamous gang, The Cable Guy (Jim Carrey), and the E*TRADE baby.
Mike Meyers reprised his role as Dr. Evil for General Motors spot, "EV-il for Back for Good" alongside No. 2 (Rob Lowe), Scott Evil (Seth Green) and his newborn, and Frau Farbissina (Mindy Sterling). The spot was full of Dr. Evil's usual gags, including nearly dropping his son and business partner into a pit of hungry sharks, quippy one-liners, and, of course, a plot to take over the world – but not before doing some good in promoting General Motors new fleet of electric vehicles.
Speaking of newborns, Super Bowl LVI viewers went "gaga" for the E*TRADE baby, who hasn't aged a bit. The spot performed almost as well as the median Big Game ad.
Verizon leveraged another 90s icon in Jim Carrey's The Cable Guy, an annoying and very persistent cable guy that won't quit, even after a tenant tells him she doesn't need cable with Verizon's 5G ultra wideband internet that she installed herself.
Travel Searches for a Pandemic Rebound
Travel companies are hoping viewers feel nostalgic about traveling as they aim for an industry rebound. Near the start of the game, Visit California aired a captivating spot featuring a convertible-driving Mario Lopez, San Francisco Giants infielder Brandon Crawford, and actor Anthony Anderson.
Expedia, Booking.com, and Turkish Airlines also had significant star power behind their ads with Ewan McGregor, Idris Elba, and Morgan Freeman respectively starring in 30-second spots for the brands. Booking.com had the top-rated travel spot, performing 1.7x better than the median ad.
Complete Ranking
All ads aired during Super Bowl LVI ranked by Search Engagement Index (SEI), with the median performing in-game Super Bowl spot indexed to 100 in order to easily compare the relative impact of each ad on online search activity. The data included in this ranker is preliminary, and is subject to slight adjustments based on EDO's final Super Bowl LVI analysis.