The 2022 NBA Finals drew 24% more viewership than last year. EDO captured this increased viewership along with increased consumer engagement in NBA Finals programming. These results are a fantastic sign for the NBA and its sponsors, who have invested millions or even billions annually are sure to benefit.
YouTube TV ad performance
YouTube TV signed a multi-year sponsorship deal with the NBA in 2018, and it's certainly paying off. During the 2022 NBA Finals, the streaming media player aired 29 TV ad airings, which generated approximately one million organic online branded searches for YouTube TV.
Not only was the advertiser able to reach 13.3M viewers, on average, but consumers were also highly engaged with its commercials. In fact, a viewer who saw a YouTube TV ad airing was over three times as likely to search for the brand online, versus the average YouTube TV ad airing on primetime television. Moreover, year over year consumer engagement for YouTube TV during the NBA Finals increased by 101%.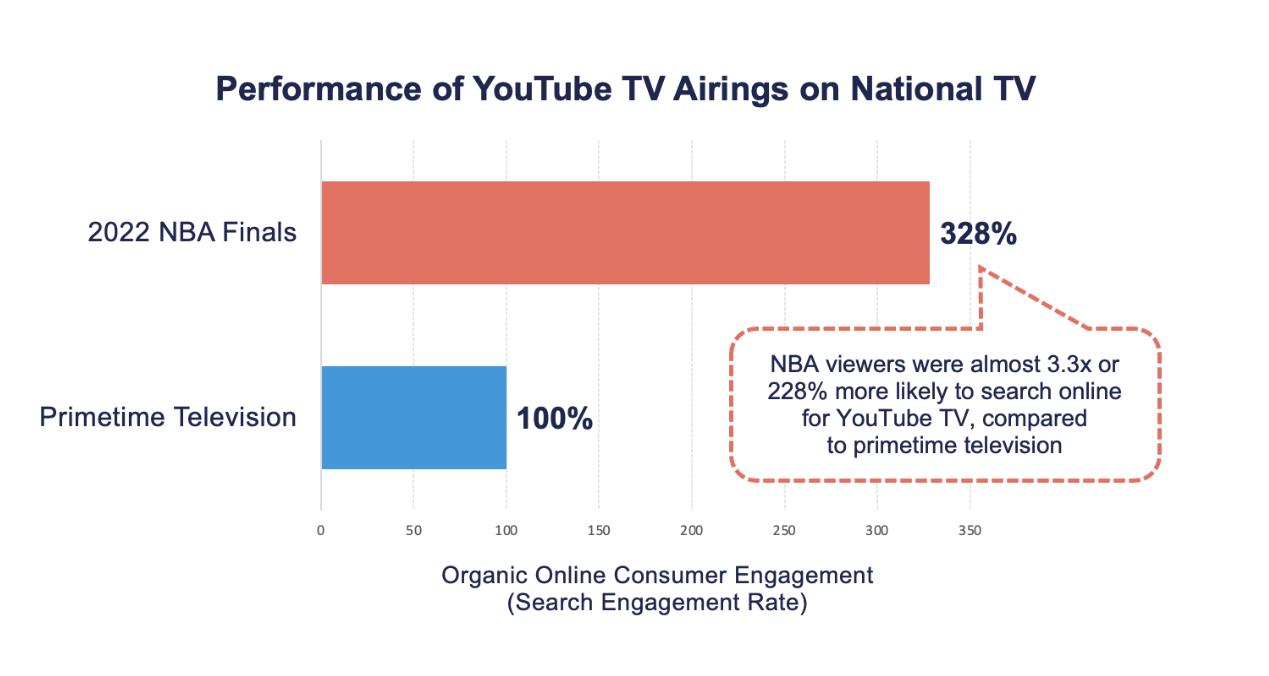 Need for TV
EDO data shows how YouTube TV greatly benefitted from advertising during the 2022 NBA Final. While streaming platforms want more live sports programming, advertisers still need national TV to remain competitive. This is a particularly interesting situation given that younger audiences have one of the highest churn rates for streaming platforms. National TV remains a consistent channel with a strong reach and ability to generate organic consumer engagement.
TV advertising is a highly competitive field where intelligent, big-data-backed insights are needed. EDO can show marketers what's working and a breakdown of how your competitors are advertising. Contact us today.