Latinxs will account for 62% of the total U.S. population growth in the next five years, according to the U.S. 2021 Census. Despite this, many TV advertisers don't have a strong Spanish language strategy in place to appeal to the growing demographic, and this is especially true in pharma.
Jorge Daboub, an EVP at Univision Communications, pointed out that the pharma industry has spent a "small fraction" of its ad potential on Spanish Language TV (SLTV). EDO national TV data also underscores this point, detailing that pharma brands aired less than 1% of their ads on SLTV, equating to $155 million in estimated spend, from 2019 to date.
A growing need for SLTV ads
According to Horowitz Research, half of Latinx households (49%) subscribe to both a traditional multichannel video programming distributor and at least one streaming service. Younger, multilingual, bicultural, family households are the most likely to leverage both MVPD and SVoD platforms to satisfy their households' language needs. This means marketers have ample opportunity to target the growing Latinx population via Convergent TV advertising.
Pharma advertisers are only beginning to take note of successful ads during SLTV programming. While pharma advertisers aired less than 1,000 ads between January 2019 and October 2021 on SLTV, EDO has tracked over 1,500 pharma airings on SLTV since the start of 2022 alone.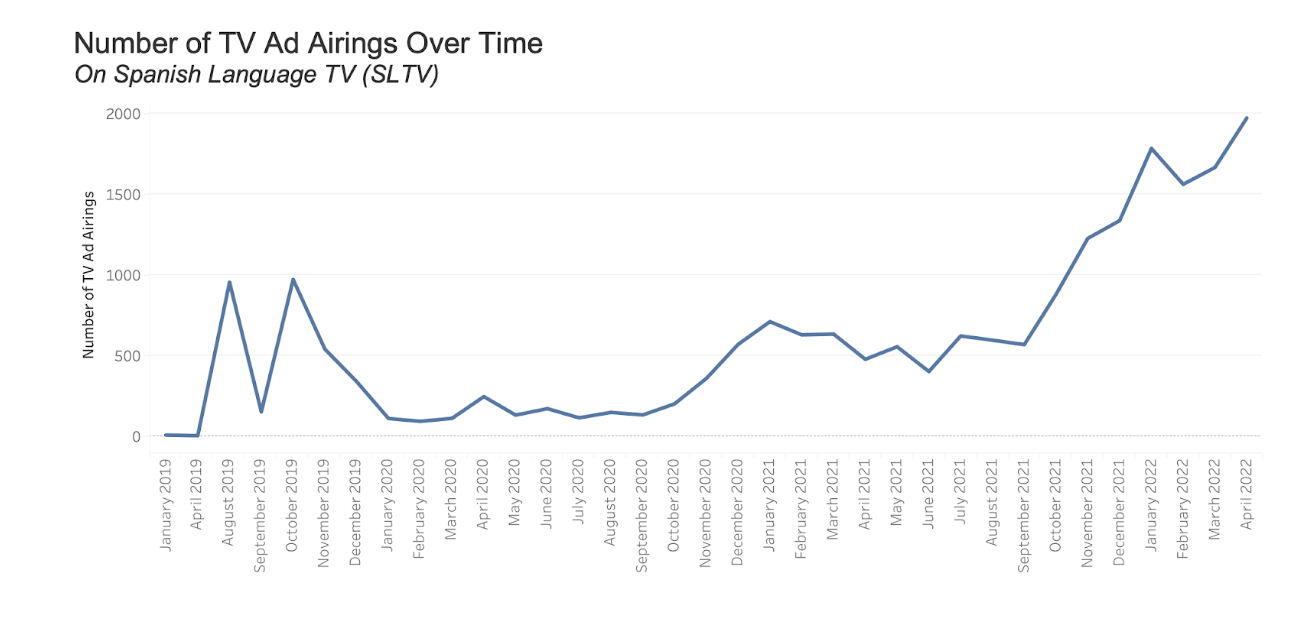 Diversity
There has been little ad diversity across the pharma industry on SLTV in the last three years. In 2019, EDO data shows that there were only seven unique pharma brands across six sub-categories that advertised on SLTV. These numbers have only modestly grown to 11 unique pharma brands across eight sub-categories by 2022.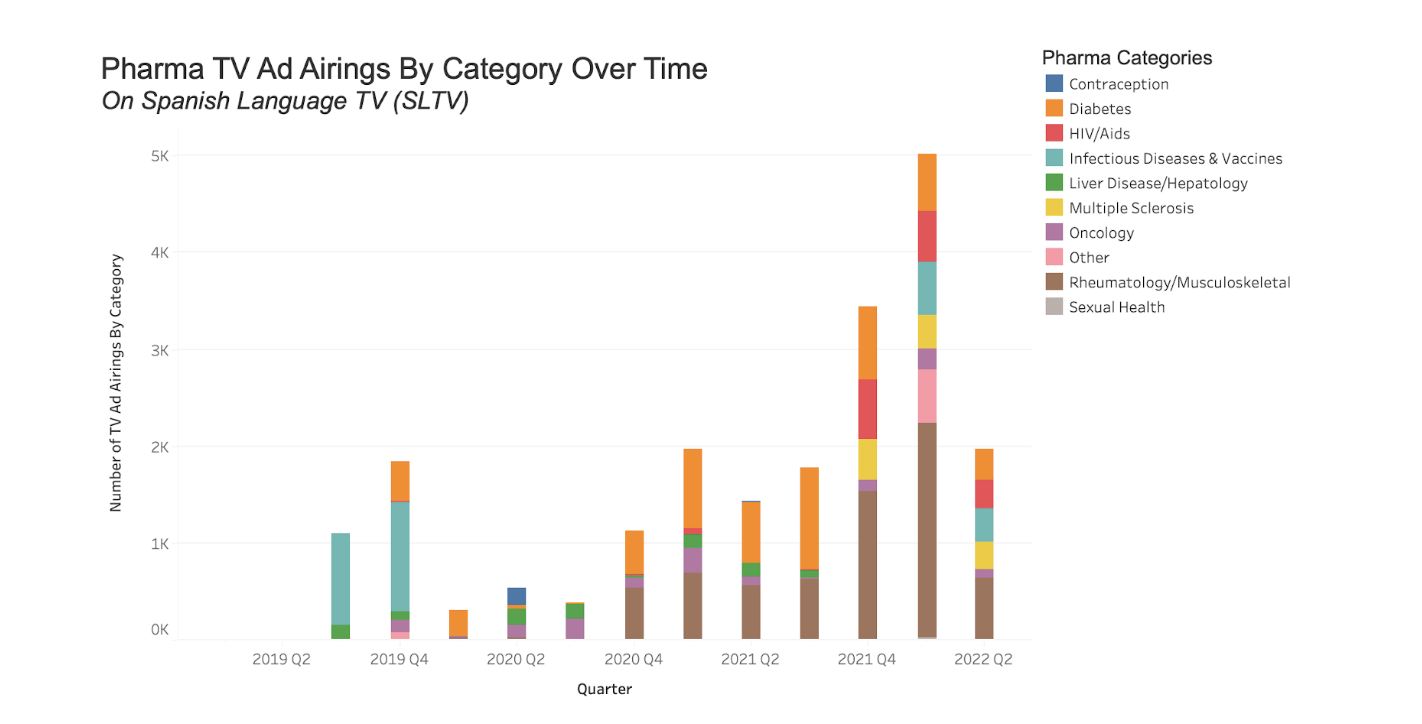 A greater diversity of pharma sub-categories and brands could possibly help improve the health literacy among the Latinx population. Pharma presence on SLTV expands reach and allows viewers to gain access to knowledge and information they may not otherwise receive.
For instance, GlaxoSmithKline's BigBadCough.com spent an estimated $2.5 million in 2019 on SLTV to promote the whooping cough vaccine. This was an important campaign to increase awareness and vaccination rates among adults.
Pharma brands find what works in Spanish Language programming
Pharma brands advertising on SLTV can have various positive ripple effects beyond reach, awareness, or brand lift.
For example, Dupixent has been driving a strong and engaging campaign on Spanish Language programs in 2022. Despite investing less than 1% (about 1,600 ads) of its TV ad airings on SLTV, a TV viewer who saw a Dupixent airing on SLTV was 40% more likely to engage online with the brand, in comparison to a TV viewer who saw a Dupixent ad airing on English Language TV (ELTV).
Moreover, the individual shows on SLTV highlight the strength of the programming. For instance, Amor Eterno on Univision has a particularly engaged audience. Someone who saw a Dupixent airing during Amor Eterno was 78% more likely to search online for Dupixent, in comparison to the average SLTV program. These results also prove the value of investing, as Dupixent aired approximately 56 ads on the program for an estimated $860k.
Stelara is another case study that presents the power of SLTV. In 2022, a TV viewer who saw a Stelara airing on SLTV was 89% more likely to search online for a brand, compared to someone who saw a Stelara airing on ELTV. The brand has aired closer to 20% of its TV ad airings on SLTV this year.
While the current state of pharma advertising on SLTV is sparse, EDO data indicates an upward trend as the US Latinx population continues to grow. Pharma marketers who choose to invest in SLTV are bound to see higher rates of engagement if they invest more in what works.

Get More Insights: Download EDO's Pharma OTC TV Advertising Performance Insights Report for 2022 Upfront Planning

Contact us today for more information on how EDO can help improve the timeliness of your creatives or optimize ads for higher consumer engagement.