Welcome back! For the newbies: each week, on this live blog, we'll be sharing which brands March Madness TV viewers are engaging with the most according to EDO's behavior engagement magic. To learn more about the methods to our mADness – see further below. Otherwise, let's get to it!
Update April 4, 2023: Started From the Bottom Now They're Here. Congratulations to Buick for winning our first March mADness Brand Bracket!
In a tournament year filled with underdogs, upsets, and memes, Wendy's just couldn't stay frosty against the mighty automaker. Today, we're celebrating Buick's arrival in style at the number one spot on the podium as our 2023 March mADness Brand Bracket champion. Congratulations again to Buick.
And to all who've been following, check out our latest industry report to learn how brands like Buick stay ahead of the competition or contact us to know more about how your brand can stay on top.
Update April 3, 2023: There Can Be Only One.
This past weekend, Buick managed to overtake its financial services competition and is rounding the corner towards the checkered flag. Meanwhile, Wendy's upset the telecom titan with momentum from last week's upset over Coca-Cola, making it seem like no one can go toe-to-toe in Wendy's kitchen.
Now, with the stage set, the competition between Buick and Wendy's for the title of March mADness Brand Bracket Champion has arrived. Will viewers be swayed by the smooth siren sounds of a Buick, making the journey more fun than the destination? Or will Wendy's iconic square burger lull viewers into a world of pure imagination? Come back tomorrow to learn who will be crowned this year's champion.
And for more insights on where your ad spend can be more effective, check out our latest blog post on The Super Value of Super Bowl Lead-Out Programs, or contact us for a deeper dive into your brand.
Update March 29, 2023: The Final Countdown Begins with the EDO Final Four
2023's NCAA Tournament upsets are turning out to be one for the record books. For the first time since 1979, there will be no number-one seed in the Final Four. And in a case of life imitating art, we here at EDO find ourselves in the same historical predicament. But much like anyone whose bracket was shattered early, it's not about the most popular team, it's about the team that had the most impact.
Rounding the corner at breakneck speed is Buick, who has demonstrated that land speed beats airspeed as it leaves the once mighty duck in its rearview. Meanwhile, financial services brand Invesco's portfolio of toppings doesn't need a reservation to claim a seat in the EDO Final Four.
AT&T proves a strong connection can and should be made from anywhere, and not just over some tasty wings. And last but not least, Wendy's upsets Coca-Cola in the battle of who wore red best.
Which brings us to the EDO Final Four. Will the smooth sedan lease its way to the championship, or will its path to glory be repossessed? Will Wendy prove once and for all that when it comes to red vs. blue, always bet on red?
Check back next week to find out, but while you wait, learn how the cutting-edge insights of EDO's TV engagement data pushed these brands to the final rounds, check out our methodology below or get in touch for more information.
Update March 22, 2023: The Path to Glory with the EDO Elite 8
The tournament was abuzz with upsets and surprises during the first two rounds of on-the-court play last week, as some of college basketball's most well-renowned teams were sent home — including Kansas, Purdue, Duke, Virginia, and Kentucky. Cinderella stories like Fairleigh Dickinson's spellbinding play over Purdue and Princeton slaying Arizona and Missouri have marked some of the most shocking upsets in recent memory.
But off the court and across TVs all over the nation, the mADness has only just begun.
We'll kick things off with three simple words that echoed through our offices and/or Slack channels as EDO's behavioral engagement magic revealed itself:
"GOOSE. BEATS. CHOCOLATE."
Insurance provider Aflac spread its wings and let it be known that the delicious blend of chocolate and peanut butter will not stand in its way to victory.
On the other hand, AT&T managed to make a crystal clear connection with viewers this time around as they mobilized their world from our Sweet 16 to the Elite 8. And while Buffalo Wild Wings came to the cookout prepared with extra sauce, opponent LG was a no-show — perhaps waiting for the later rounds to strike. However, as all March Madness fans know, all that matters is what happens on the court.
Buick managed to take a high-octane page from Fast & Furious's physics-defying franchise by…landing that parking spot closest to the front, and Pizza Hut, in an absolute nail-bitter, proved once and for all in the land of pie charts that the pizza format reigns supreme.
Wendy's, not one to ever be caught slipping, will not be getting "The Rachel" from Great Clips this time. And when it comes to the sounds people prefer to hear during March Madness — that sound of a Coke opening brought the kind of happiness that dunked all over America's favorite cookies.
And last but certainly not least, financial titan Investco led to an upset against consumer packaged giant Unilever. We're pretty sure this holds a controversial mirror up to society, we're just not sure how.
That's it for this week's mADness! Wondering how all the sweet science of EDO's TV engagement data led these brands to top the brackets? See the method to our mADness below, or get in touch!
Who will top the chart? Will the duck drive its competitor off the road? Will pizza triumph over finances? Will wings have greater signal strength? Or will the red-headed darling declare itself the real thing?
Tune in next week to find out!
Behold, the EDO Sweet 16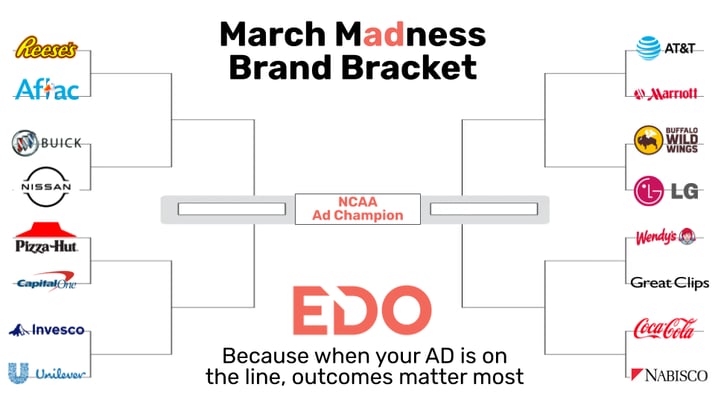 EDO's March Madness Methodology
To seed our bracket's Sweet 16 we chose to start with the NCAA sixteen official sponsors (some were specific brands, others were holding companies). We then used a secret blend of behavioral metrics – balancing ad efficacy, impact, and interesting matchups – to determine how each sponsor performed in last year's NCAA Basketball Tournaments (Men's & Women's) to produce seeding for the 2023 Tournaments.
Then, each week, we'll take a look at how the sponsors advance though the weeks – all the way til the championship game itself.
And let's be clear – we expect all sponsors to play like the reigning champions they are (just like the teams of the tournament itself), because when it comes to March Madness advertising, creativity counts in the moment just as much as luck of the draw.
For example, much like the Super Bowl, the key to a great TV ad is finding the right balance between creative flair and effectiveness when conveying the intended message to viewers. Factors like storytelling, clarity, pacing, audio-visual synchronization, and effective use of humour can all contribute to an ad's lasting impression.
It's a mystery filled with excitement like no other. And that's why we all love it.
Some Fast Facts from 2022's NCAA March Madness
Amidst all the buzz and energy, here are some fast facts about last year's tournament.
For all NCAA Basketball Tournament advertisers in 2022, ad performance tends to increase across the duration of the Tournament – from the first two rounds through the Championship.
Combined, ads from NCAA sponsors outperformed the primetime broadcast and cable average (the benchmark) by 191% during the 2022 NCAA Men's Basketball Tournament Championship.
Top performing ad categories in the 2022 NCAA Men's and Women's Basketball Tournament combined were automotive (26% share of online engagement), entertainment (17%), and restaurants (15%).
Zeposia, Corona, and Reese's were the top 3 advertisers by engagement in both the '22 Men's and Women's Basketball Tournaments combined. Viewers were 6.6x more likely to engage online with Zeposia after seeing an ad from the brand during last year's tournaments, 6x more likely for Corona, and 5.4x more likely for Reese's.
Bracket already busted? Some thoughts while you wait
As we eagerly await what the next round of matchups will bring, make sure to bookmark this page and check back with us next week for more in-flight insights on the most engaging ads during March Madness.
And, while you wait for the next round of games to begin, if you're facing a full-court press on your marketing budget this year, let EDO make sure your playbook is ready for anything.