In June, Modelo overtook Bud Light as the United States' best-selling beer, ending Bud Light's 20-year run at the top of the U.S. beer sales charts. Now, Bud Light has a new football-focused ad campaign — taglined "Easy to Sunday" — that the brand hopes will enable it to make up ground and regain its No. 1 spot.
The new campaign focuses on real, diehard football fans and the place of Bud Light in their game day rituals, a departure from recent football-season campaigns highlighting the beer's drinkability and the brand's line of alcohol-infused seltzers. For Bud Light, "Easy to Sunday" presents an opportunity to refresh the brand's image in the wake of a boycott launched after it partnered with the trans influencer Dylan Mulvaney.
Based on EDO data, early returns for the "Easy to Sunday" campaign have been strong. Through our TV airings database and best-in-class predictive modeling, we analyzed how likely Bud Light's ads were to inspire viewers to engage with the brand online in the minutes after airing.
What we learned is that Bud Light's Q3 2023 national TV ads were 479% more likely to generate consumer engagement on a per-person, per-second basis than they were during Q3 2022. That's big news for Bud Light, since research has consistently found that when a growing number of consumers take digital engagement actions like searching for a brand online, the brand is likely to increase its market share.
But how does this compare to Modelo's advertising? And what are the two brands doing to win the hearts, minds, and online searches of the coveted NFL fanbase? Let's dive into the data.
Bud Light Focuses on Football, Is Rewarded with Results by NFL Fans
Part of Bud Light's advertising resurgence is due to its strong performance surrounding NFL programming this season.
Through the first two weeks of the 2023 NFL regular season, Bud Light's ads in NFL games have been 110% more likely to drive engagement than the brand's average ad running in broadcast or cable primetime. By contrast, last year's NFL regular season ads for Bud Light were actually 76% less effective than the brand's broadcast and cable primetime average. In other words, Bud Light's NFL ads so far this year are a whopping 7.75x more effective than they were during last year's regular season.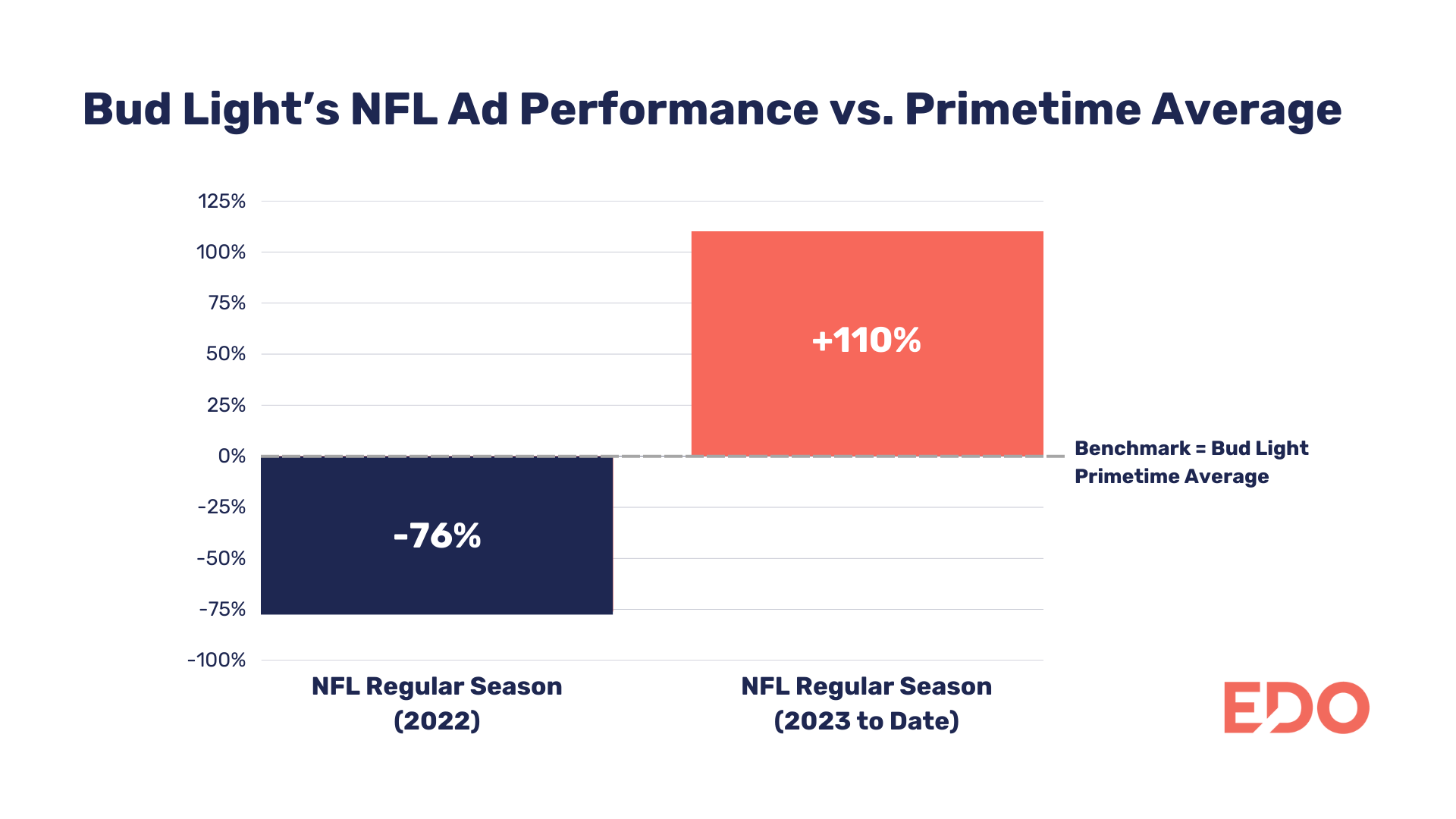 Granted, it's still early in the season. But that's a massive turnaround, and it's hard not to think that Bud Light's stories of NFL superfans are connecting with the diehards on the other side of the screen.
Bud Light May Have Turned Around Its Ad Engagement — But Modelo's Still Seeing a Huge Lift from NFL Advertising
It's important to remember that total impact – the combination of advertising weight and advertising efficacy – is what matters when talking about market share. The new market leader in U.S. beer sales, Modelo, aired roughly 8.25 times as many national TV ads as Bud Light during Q3 2023 — but its ads were considerably less effective on a per-person, per-second basis.
Overall, Bud Light's Q3 ads were 2.5 times as effective at driving consumer engagement as Modelo's Q3 ads.
The story looks different however when we isolate for the ads that ran during the first two weeks of the 2023-24 NFL regular season. There, Modelo is seeing outrageously strong performance with a series of dramatic ads depicting the fictional stories of how "full-time fans" carry their passion with them throughout their daily lives.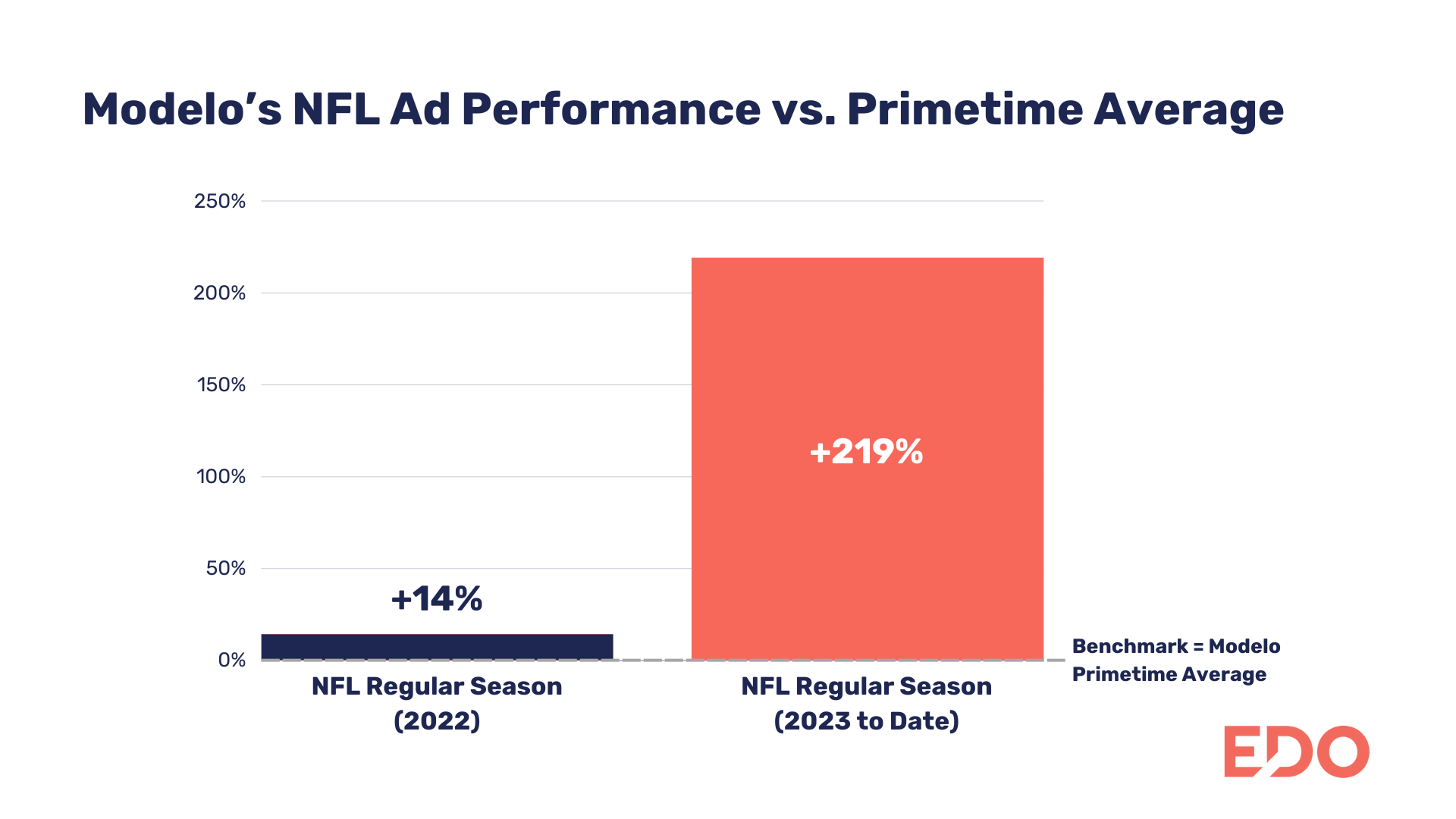 When airing during live NFL programming during the first two weeks of this year's season, Modelo's ads have been more than 3 times as effective as the brand's average broadcast or cable primetime ad, a larger lift in engagement than Bud Light's NFL ads, which have been twice as effective as the brand's average broadcast or cable primetime ad.
Stay Up to Date on All the Latest NFL TV Ad Trends
Will Bud Light's strong overall ad effectiveness begin to take its NFL ad engagement to new heights? Can Modelo keep up its momentum on the airwaves and at the checkout counter? And how will this season's increased slate of streaming games impact all of this?
These are just a few of the questions we'll be following on the EDO blog throughout this year's NFL season. Whether you're looking to learn about the effect of Travis Kelce's new relationship on his advertising starpower, the most effective NFL advertisers among quick-service restaurant brands, or the growth of Spanish-language NFL advertising, we've got you covered.
Sign up for our newsletter today, and make sure you don't miss a snap.