Summer marks the end of the school year, a start to vacation season, and prime time for the film industry to wow Americans with a new slate of blockbusters.
In fact, EDO data suggests that total searches for theatrical releases reach a relative peak in July to match the buzz of the summer season, with Search Engagement Volume (SEV) – or branded consumer search – for studio releases in July 2021 more than doubling from May 2021.
The insurance industry, however, typically sees little change in audience search with the summer heat. Month-over-month, EDO's data suggests that total volume of branded search has little seasonality for auto and home insurance brands.
Insurance brands jump in on 2022 movie magic
This summer, insurance brands including GEICO, Progressive, and Liberty Mutual have cashed in on the hype surrounding summer studio releases.
GEICO partnered with Disney to roll out the co-branded creative Too Much Hammering – Thor: Love and Thunder. Progressive has similarly pursued a mega-franchise partnership with its co-branded Jurassic World campaign. Meanwhile, Liberty Mutual has taken a family-friendly approach to its studio collaboration, dedicating a significant share of summer airtime to Fishing – Minions: The Rise of Gru.
As summer weeks pass, all three brands have seen search volume accumulate significantly, thanks to their investment in these co-branded campaigns. Progressive's campaign was the first to debut, launching on May 9. The brand ran a much larger total campaign that generated the greatest search engagement of any studio-insurance co-branded campaign.
Liberty Mutual ran a significant amount of weight beginning the week of June 6 and generated the most consumer branded searches in June. While GEICO dedicated fewer resources to its campaign, it still saw strong contributions in late June and early July, driving the highest volume of search for any insurance brand's studio campaign during Thor: Love and Thunder's release week of July 8.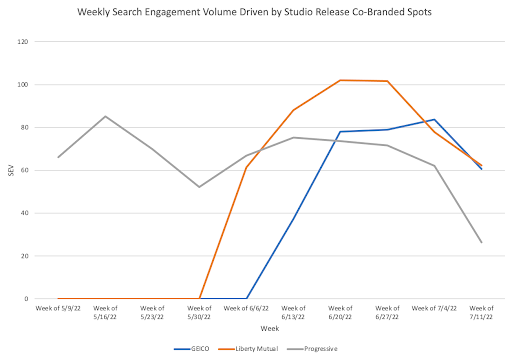 How effective were the co-branded insurance-movie ads?
In terms of effectiveness, all three brands saw strong creative performance relative to historical campaign benchmarks. Liberty Mutual's Minions creatives saw consistent success, with the :15 and :30 variants of the creative outperforming the average brand creative in the past year by 7-11% in generating branded search on a per-person, per-second basis.
GEICO and Progressive saw meaningful strides in performance from their co-branding efforts, as well. GEICO's :30 Thor: Love and Thunder spot outperformed the historical brand benchmark by 16%, while Progressive's :15 Jurassic World: Dominion creative outperformed the brand's 12-month :15 creative benchmark by 7%.
As the strength of insurance and studio partnerships may open the door for future co-branded collaborations, EDO data can help advertisers measure ad impact and effectiveness to maximize the value of their campaigns. Our vast dataset can help advertisers pinpoint top performing creatives and rich media environments to increase branded search without breaking the bank.
By Teddy Sevilla, Media Analyst Lead
Discover more consumer search insights for the insurance industry and beyond by visiting the EDO blog.