New outcomes-based solution, part of EDO's creative optimization suite, drives TV campaign performance gains up to 20%
EDO officially launched its latest innovation to increase TV ROI for brand and network advertisers. EDO's Creative Rotation Optimization™ allows advertisers to optimally reallocate in-flight creative weight with no additional media spend or changes required to their media footprint. The new solution harnesses real-time creative engagement signals to drive campaign performance gains up to 20%, which represent millions of dollars in unlocked business value.
"Advertisers invest millions in TV, and they are reliant on expensive, traditional survey and sentiment research methods to assess creative effectiveness," said Kevin Krim, President & CEO, EDO. "Most existing creative measurement solutions are costly, slow, and provide results too late or infrequently to make a meaningful impact on TV advertising campaigns. With increasing pressure to make TV advertising as responsive and efficient as digital, Creative Rotation Optimization™ is an innovation that's long overdue to ensure actionable TV intelligence for in-flight campaign optimization."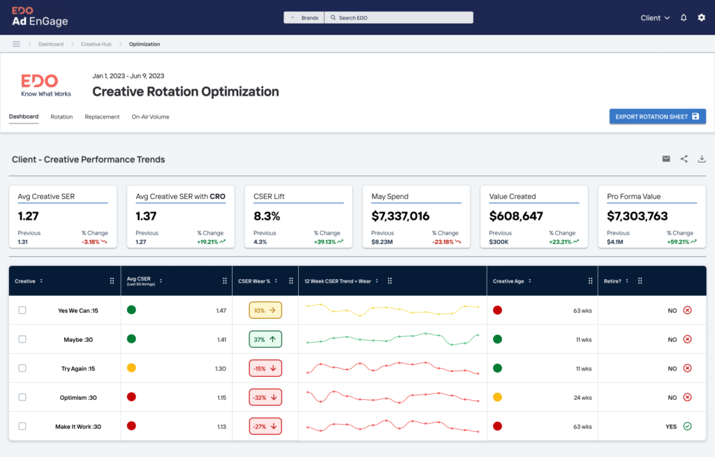 EDO's creative rotation solution showcases brands' creative performance trends, such as ad creative effectiveness over its lifecycle, weekly wear-in and wear-out statistics, and value created from creative efficacy gains. With in-market evaluation, EDO provides clear recommendations on which ad creatives should be retired or receive more investment. The solution also details which ad creatives engage TV viewers across specific publisher platforms, enabling brands to optimize creative investments across distinct media environments.
Most advertisers have historically focused on only media optimization to improve campaigns, as traditional creative analysis lacked the timely quantitative analysis needed to support immediate creative rotation decisions. But with EDO's inclusion of decision-science methods, creative teams can harness more immediate reads of creative wear-in and wear-out, to drive optimal rotations by capturing the synergies between ad creative and program content.
"Brands can now improve ad performance within their current media footprint with no added budget," said Laura Grover, SVP, Head of Client Solutions, EDO. "Creative Rotation Optimization™ enables advertisers to identify when ads are hitting their stride, or alternatively, when a campaign's effectiveness is winding down, unlocking immediate value from creative investments. With marketing budgets under increasing economic pressure, these sorts of solutions are essential to helping marketing dollars go even further."