The NBA Finals are drawing more viewers at a time when the NBA is struggling to bring back its fans in large numbers. The average viewership for the 2021-2022 NBA season is up 19% in comparison to the prior season and is steadily climbing back to 2019 figures.
EDO is measuring this viewership and TV viewers' continued engagement with NBA programming. Preliminary estimates for impressions, spend, and incremental search show interesting activity for the first two 2022 NBA Finals games. Here are the trends we've tracked so far.
Entertainment category leads the way
The Entertainment & Recreation category, which includes ads for movies and streaming sites, had the highest estimated spend and generated the greatest share of online search. This result is not a surprise given the power of live sports programming and the high volume of search generated by movie trailers.
Not only are each of these independently strong drivers for consumer engagement, but together they are a recipe for success. For instance, EDO found in its research that for theatrical movies, the NBA Finals in 2021 were 224% more effective at generating online search than the average primetime broadcast program.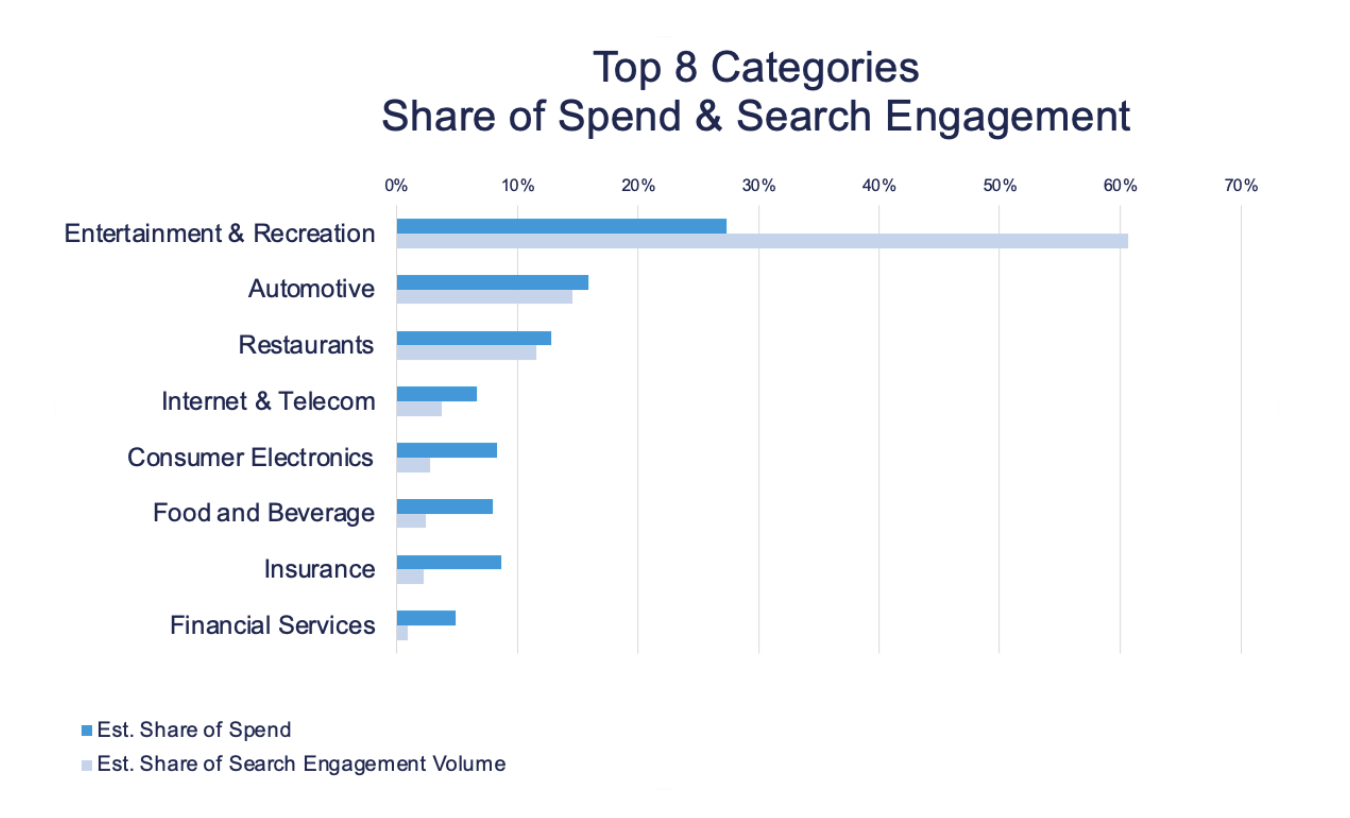 Top movies that are driving demand
Movies comprise a majority of the products in the Recreation & Entertainment category. What are some of the NBA fans' favorite trailers through the first two finals games?
Thor: Love and Thunder. Marvel Studios continues to swoon TV viewers. A single TV ad airing of Thor during the 2022 NBA Finals generated an estimated 400,000 incremental online searches for the movie.
Elvis. The king is back: a single TV ad airing of Elvis during the 2022 NBA Finals generated over an estimated 230,000 incremental searches.
Rise. The new Disney+ movie follows the Antetokounmpo brothers' story from Nigeria to Greece and ultimately the NBA. A single TV ad airing of Rise during the 2022 NBA Finals generated over an estimated 170,000 searches.


Movies may be heavy-weights in search, but there are other brands and products that are also driving consumer engagement during the NBA Finals thus far.
Top brands that are driving demand
Acura and Kia were the top brands that drove the highest consumer engagement during the Finals thus far. Activision's Call of Duty, the video game, and Taco Bell came in at third and fourth, respectively.
As the NBA Finals continue, so do the brand winners. EDO can show you what's working for your brand and a breakdown of how your competitors are advertising. Contact us today.