Disney has been a pioneer of innovative storytelling for decades. With its iconic movies, TV shows, and even theme park integrations, the company continues to inspire every generation. And since the unveiling of Disney+ in 2019, they are often touted as one of the only players in town with a content catalog capable of catching first-mover Netflix.
Recently, Disney announced a bold new approach in the arena of advertising: to expand the reach of its Disney+ content across its vast portfolio of (ad-enabled) platforms — ABC, Freeform, FX, and Hulu.
Although this strategy could very well change the way content providers roll out their marquee content forever, our team had one big question: how did Disney's airing of a critically acclaimed streaming series on ad-supported media increase search engagement? Well, let's talk about it.
First things first, what exactly did Disney do?
For every streaming service, exclusives are king. What can viewers get with one that they cannot get from another? Amazon Prime Video has The Boyz, Jack Ryan, and Reacher. Netflix has Stranger Things, Squid Game, and Bridgerton. And then there's Disney+, with a full slate of Marvel and Star Wars content always at your fingertips — and with more adventures always on the way.
But whereas the former streaming services only have one platform to monetize against, Disney, whose Disney+ ad-supported tier is set to launch this week, has many more avenues BEYOND streaming, and the House of Mouse intends for their content to reach an even broader audience.
A few weeks ago, while families gathered for Thanksgiving, they were given the ability to watch the first two episodes of Andor, a Star Wars series best described as a "tale of the burgeoning rebellion against the Empire and how people and planets became involved." Whether or not its prowess resembles shows like The Wire set in a galaxy far, far, away is a topic for another post, but there's definitely someone in your work/life clamoring for you to watch it. And when Andor's premiere episodes re-aired across the following expanded lineup of Disney networks and platforms, Disney's next chapter of innovation began:
ABC: Wednesday, November 23, 9-10:30 pm ET/PT
FX: Thursday, November 24, 9-10:30 pm ET/PT
Freeform: Friday, November 25, 9-10:30 pm ET/PT
Hulu: Available from November 23 through December 7
Why is Andor going beyond Disney+ so significant?
Advertising isn't the only market facing the realities of the current economic climate. When Matt Damon was asked on the YouTube show "Hot Ones" why it seemed like the movie classics of yesteryear weren't being made anymore, his answer went viral. In short, now that technology has largely rendered entertainment distribution via physical media sales obsolete, creators have started to pull back from taking the off-beat risks that defined and influenced a generation.
And most recently, Edward Norton shared with P&G on the "Learnings from Leaders"podcast that when ad budgets fail to provide content performance results, creative teams — with deals that only kick in once the studio hits certain revenue thresholds — are forced to pay the price.
If Disney's Andor experiment succeeds, the TV industry could see a revitalization of a revenue model that benefits everyone involved. Premium content airing on streaming first can find a second home (and audience) at a scale beyond streaming. Advertisers get more inventory. Creators are granted more control of their work. And consumers get to enjoy a diverse array of programming at a price point they find value in. Or, at its simplest, a streaming provider finds a way to earn a lot more new subscribers by teasing their top content on broadcast.
What's the verdict (so far)?
We would not blame you at all for assuming that the week of Thanksgiving (likely second only to the week of Christmas or New Year's Eve) would be a fairly distracting week for eyes on screen, but that's exactly where our story begins.
First, we went looking to see how well the media running against Andor performed with regard to search engagement. After all, this was likely an audience who had already seen a promo or two, heard the buzz, been told it's "Stars Wars like you've never seen it before," or some combination of all of the above. But would this audience engage with the ads they were seeing more, the same, or less than had Andor not aired at all?
The real answer reveals so much more.
On the week of Thanksgiving, during Andor's primetime broadcast on ABC on Wednesday, FX on Thursday, and Freeform on Friday, viewers engaged with ads run during the show at 31%, 38%, and 7% better than the search engagement benchmark for broadcast and cable respectively.
Media performance on FX and ABC, in particular, also outperformed both the overall primetime broadcast performance and the overall primetime performance on ABC. This seems to suggest that as Disney (and potentially others) continues to explore this strategy heading into 2023, both buyers and sellers for both broadcast and cable networks may find themselves able to maximize their creatives already in flight and inventory with already-proven programming.
Is that all?
Here's where things get even more interesting. Our team wondered if Disney was also doing this to boost awareness of Disney+ — introducing Andor directly to an audience that may have heard the buzz, but hadn't yet made the leap to sign up for Disney+. So did Andor's broadcast airing drive a predictive outcome — increased searches for Disney+ and/or Star Wars-related terms?
Yes. It did.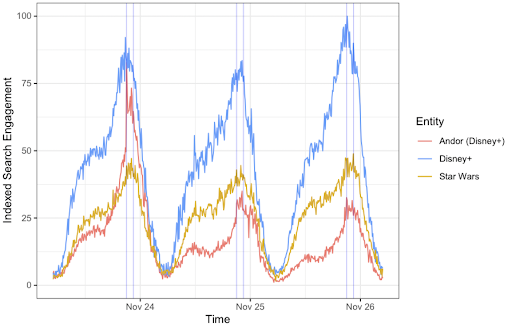 During the Thanksgiving airings of Andor, we saw related engagement spikes for Disney+ on all three nights during broadcasts of the show. It's one thing to see a great promo or trailer in a vacuum, but it's another thing entirely to be watching the very show the promo is about — and be interested enough to learn more to finish the story you just started.
For the three days that Andor aired on broadcast and cable, search engagement for "Andor" was 153% higher from November 23 to November 25 compared to days prior. For "Star Wars," 37% higher, and for "Disney+," 12% higher from November 23 to November 25 compared to days prior.
This suggests that not only did Disney raise the profile of the show and the IP, but also interest in their streaming service – which we know is predictive of the ultimate outcome Disney+ was seeking..
Why should this give advertisers hope?
The current economic downturn has been and will continue to be hard on businesses of all shapes and sizes, but it has also presented a unique opportunity to move forward with rebellious thinking. And the kicker is that Disney has just broken multidimensional ground without the need for radical spending adjustments.
Going forward, the conversation around the water cooler may be bigger than ever as the reach of premium content expands beyond walled gardens. Advertisers may now have the ability to align themselves with already-proven programming instead of crossing their fingers that a show with all the right ingredients will be a smash hit. Streaming creators may now find their boundaries expanded as the potential for a second life on broadcast may now allow for more off-beat storytelling. And price-conscious consumers who may be hesitating to sign up for a subscription — not swayed by features or costs alone — may now be swayed by the chance to become dedicated fans.
With that in mind, we, and the industry, will continue watching Disney's rebellious thinking with great interest.
You've got the blueprint, now, can you make it count? Contact EDO today to learn how you can maximize your brand's TV outcomes. After all, there is no try — do or do not.