Theatrical movie advertising has experienced a remarkable resurgence after a dramatic pandemic slump spurred by movie theater closures.
In the last year (March 2021 to 2022), EDO captured over 254K theatrical movie ad airings on TV which generated nearly 42M incremental online searches. That's a 280% increase in airings and a 411% increase in searches over the previous year.
While these metrics are certainly not as high as they were in the year leading up to March 2020, the number of searches for movies driven by their television advertising has already returned to 80% of pre-pandemic levels. As Americans continue to adapt to new normal after new normal, movie marketers are returning to the small screen in droves, and have reaped the rewards.
Matches Made in Heaven: Top Program Genre-Movie Genre Pairings by Search
EDO recently analyzed the best TV environments for each movie genre to better understand which TV programming each movie genre performs the best in, based on branded searches.
The below chart features our findings on nine distinct movie genres and the programming genre where they generated the most incremental search from March 2021 through March 2022.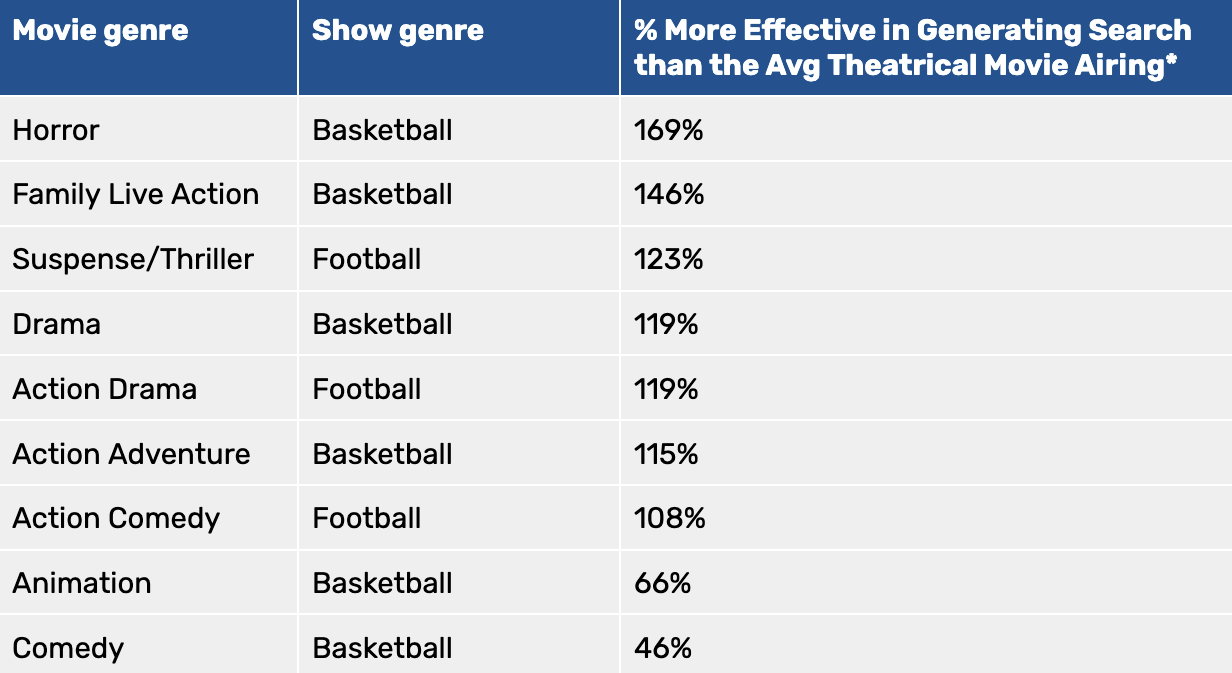 All of the top-performing show genres for nine distinct movie genres are sports. While ads from six movie genres perform the best during basketball, three perform best during football programming. Here are few highlights:
EDO data proves how powerful the NFL environment is: in 2021, theatrical movie ads during the NFL Playoffs and Thursday Night Football were 195% and 160% more effective at generating search than the average primetime broadcast program.

Basketball programming delivers even better results: theatrical movie ads during the NBA Finals and Final Four of NCAA March Madness in 2021 were 224% and 202% more effective at generating search than the average primetime broadcast program, respectively. Although only 3% of the 41K airings in live NBA games from March 2021 to March 2022 promoted theatrical movies, nearly half (29) of the top 60 most effective ads aired during the league's games were movie spots.
Know What Works: Basketball is a Highly Engaging Program for Movie Advertisers
As EDO has often reported, live sports are the most valuable programming on TV; not only for their ability to garner large audiences, but also because of how engaged these viewers are with the advertisements during games.
Not every movie will have as obvious synergy with a particular genre of television programming as, for example, 2021's Space Jam — a Family Live Action movie starring Lebron James — did with Basketball programming. However, that does not mean that movie marketers should take a programming genre agnostic approach when planning a film's TV campaign. As EDO's data has uncovered, live sports may be the most engaging advertising environment on TV, but it's important to remember not all sports programming is made equal when it comes to the theatrical movie category.
Interested in learning more? Find what works for your brand and what your competitors are up to. To learn how EDO can help you generate more consumer engagement, contact us today.