Advertisers have always had a love-hate relationship with ad airings during news programming. While TV news can generate millions of TV viewers each day, advertisers risk airing lighthearted ads during serious news coverage. Between the Covid-19 pandemic, polarizing political discourse, and most recently the Russian invasion of Ukraine, advertising on news programs has been a delicate balancing act for advertisers.
How engaging are news networks?
Generally, news networks have provided an engaging environment for brands to reach their audiences. In fact, Search Engagement on news networks has increased by 5% since 2019. However, despite a 24% increase in impressions on network news in recent weeks, EDO data shows an 18% decrease in average daily airings and a 22% decrease in average daily estimated spend.
Is the dropoff in ads unwarranted given a typically engaging environment?
Some brands, such as Applebee's, have completely turned off advertising on select news networks in light of world events. Yet impressions across news networks such as CNN, CNBC, MSNBC, Fox News, and Headline News have increased 24% recently, and Search Engagement remains high, with about a 30% increase in Search Engagement since January 2022.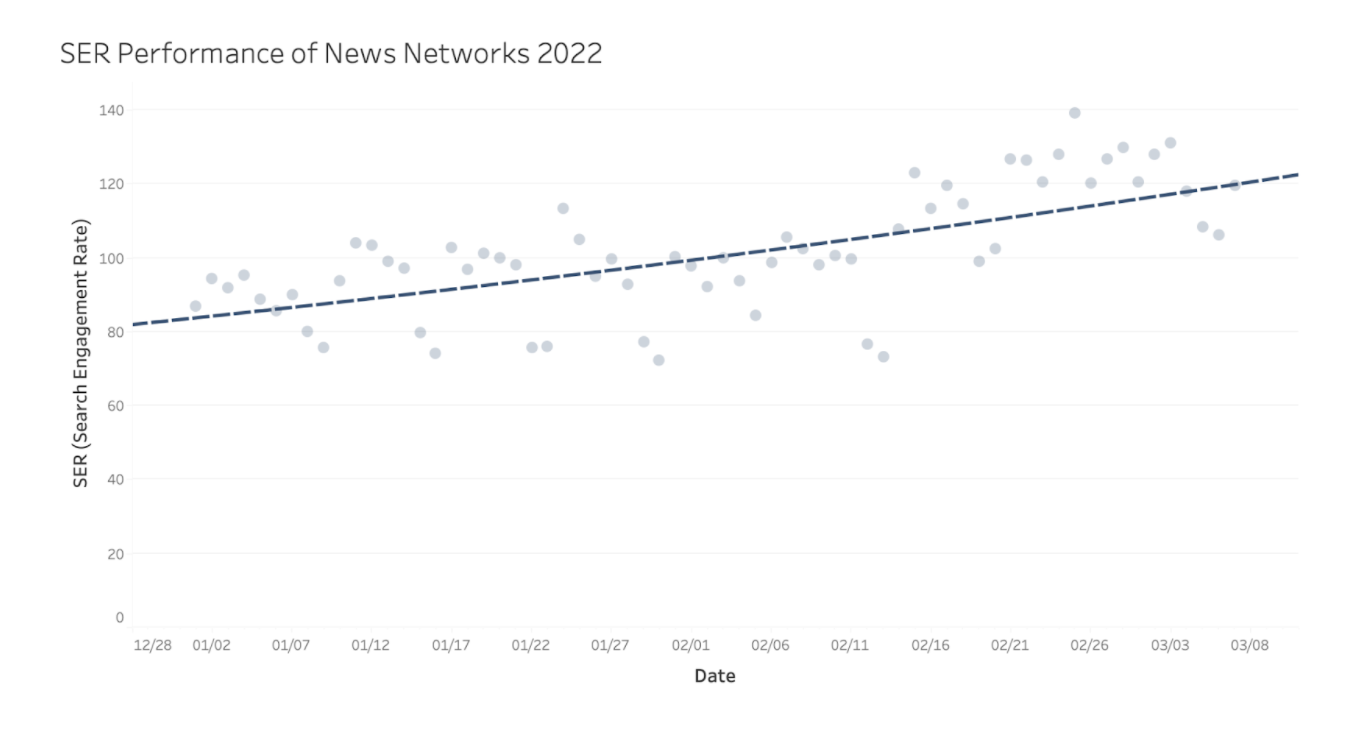 Do the benefits outweigh the risks?
Advertisers don't need to turn off advertising across news networks completely. They do need to be careful of the context in which their ads run, and ensure the tone of the chosen creatives fit alongside more serious newscasts.
Knowing what works means knowing that your brand message appropriately fits the contextual environment. Advertisers can use EDO to audit their ad load and ensure that their ad campaigns are running in the right time, and in the right programming.
EDO data suggests that advertisers that are heavily pulling back investment in news network ads may be overcorrecting as consumer online search remains strong. News networks continue to be a successful environment for advertisers across categories.
News networks will always cover controversial and sensitive topics, but their programming continues to provide an environment where brands can successfully engage with viewers. Advertisers that continue to invest in spots on news networks will see their investment pay off in viewer engagement.
Interested in learning more? Find what works for your brand and what your competitors are up to. To learn how EDO can help you generate more consumer engagement, contact us today.